"The German Mobility Award was a door opener for us!": Anyone who talks to DMP alumni will hear this sentence more often. For them and their teams, the German Mobility Award served as a seal of quality for their work and, thanks to newly acquired contacts, opened previously closed doors.
For Astrid Samaan and Coco Heger-Mehnert, it was a special moment when they and their teams were among the winners of the German Mobility Award 2019. Day in, day out, they had been tinkering with solutions for the mobility of the future together with their colleagues – by transforming cities with smart city solutions or creating a networking platform for women in the mobility industry.
So it was all the more gratifying for Astrid Samaan when her team's work received public confirmation through the German Mobility Award 2019 in the Best Practice category. The department head for conceptual mobility planning looks back: "When we won the award, we were simply delighted – about the new motivation and the appreciation. Our years of work were rewarded."
Samaan and her team are working with other stakeholders on the Lincoln Settlement in Darmstadt. In the model neighborhood, the holistic vision of sustainable and socially just urban development is being realized; an approach that tests a smart city. One focus is on individual mobility solutions. Different mobility offers are to enable residents to get around in a way that suits them, while at the same time avoiding classic automobile traffic as far as possible. For this purpose, free mobility advice is offered, for example. The offers include car and bike sharing, e-car pooling, e-load bikes and "my lincolnmobile" electric vehicles that can be used free of charge for a limited period of time.
Implementing the sustainable concept of mobility and urban development took a great deal of energy and investment: "The whole team had worked above and beyond the normal call of duty for a long time, and the DMP recognized that." Samaan also has positive memories of the award ceremony in Berlin: "It was special to be called on stage together."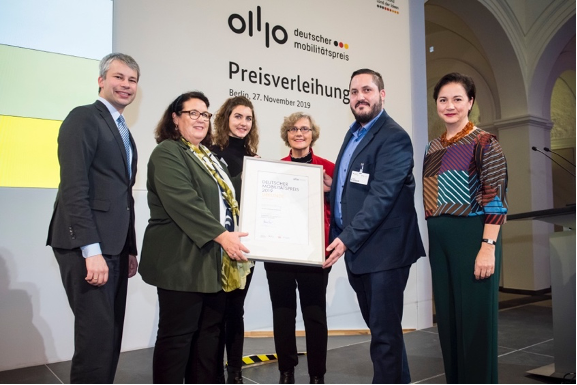 Together Astrid Samaan and Coco Heger-Mehnert won the 2019 German Mobility Award, gaining attention for the Lincoln Settlement.  (Photo: Astrid Samaan)
It was a recognition that got things rolling: the Lincoln neighborhood became more present in people's minds; the title was also used for advertising. "After receiving the DMP, there were more inquiries and applications to come to the neighborhood," Samaan says. Today, more than half of the planned residents have moved in. It's a journey that's not yet complete: the Lincoln neighborhood is thriving, and with it, the amount of childcare there and demand for the loanable car-sharing e-cars and e-load bikes.
Coco Heger-Mehnert, co-founder of Women in Mobility, reports a similar success story. The network aims to make women more visible in the mobility industry, regardless of their level of hierarchy, and works to include women's interests in mobility planning. For this, they were awarded the DMP's special prize in 2019. A motivating moment for Heger-Mehnert and her team: "That was balm for the soul! We all work voluntarily for Women in Mobility and that was recognized with the award."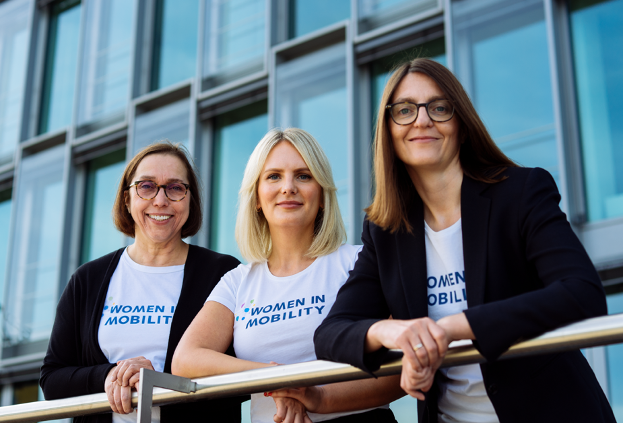 Received the German Mobility Award: Coco Heger-Mehnert (left) and her comrades-in-arms founded the Women in Mobility network to advocate for women in mobility. (Photo: WiM)
With the DMP came a lot of positive press for the network: "We experienced a reach boost," Heger-Mehnert recounts. For example, Die Zeit and the Deutsche Presse Agentur reported on the network after the awards ceremony. The media interest eventually brought Women in Mobility to the attention of other players in society and business. This increased influence is still noticeable today, he says: "We're still being approached about the German Mobility Award."
The positive experiences of alumni such as Astrid Samaan from the Lincoln Settlement in Darmstadt or Women in Mobility founder Coco Heger-Mehnert can inspire. The German Mobility Award creates new opportunities for collaboration. Networking events held as part of the German Mobility Award can introduce people with innovative ideas to each other. Increased media interest, in turn, can be helpful in attracting the attention of potential cooperation partners and furthering the implementation of ideas.
You can still apply for the German Mobility Award 2022 until August 31. Take advantage of this opportunity to help shape Germany's mobility with your project!