The application for the German Mobility Award 2022 was launched at the virtual kick-off event on 15 June 2022. More than 100 guests discussed their visions for sustainable mobility in Germany with mobility experts.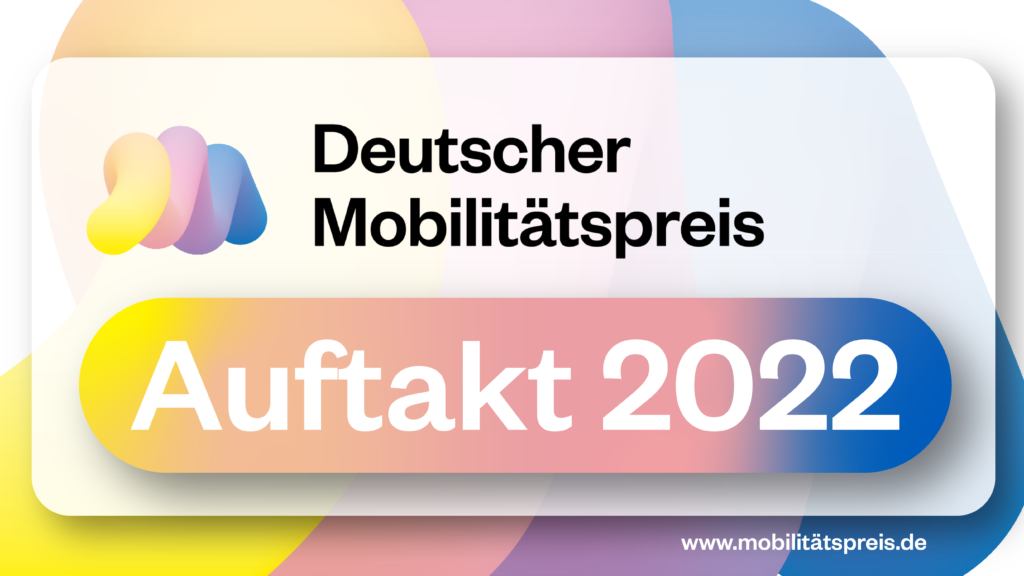 Federal Minister of Digital Volker Wissing welcomed the guests and started the new round of the competition: "The German Mobility Award is becoming younger, more digital and more international and, with ten categories, allows for more diverse submissions and participation from people from all areas and sectors." Wissing called for smart ideas to be submitted that enable barrier-free, uncomplicated, affordable and environmentally friendly mobility for everyone.
In his first input, Prof. Dr. Matthias C. Kettemann, Senior Researcher at the Leibniz Institute for Media Research/Hans Bredow Institute, emphasised the legal framework and the data protection-sensitive use of mobility data for sustainable mobility. Kettemann wished for creative minds for the German Mobility Award, who secure the freedom spaces of the next generations with new mobility ideas.
In her statement, Sylvia Lier, ex-CEO of Deutsche Bahn Connect GmbH, presented the vision of a multimodal and climate-friendly mobility of the future. With public transport, shared mobility offers, on-demand shuttles or carpooling, benefits must be promoted over ownership, she said. Lier called on innovative start-ups to apply for the DMP with mobility concepts that are not limited to motorized individual transport only and include company incentive systems such as mobility budgets, job tickets and sustainable commuting.
In his speech, Philipp Offergeld, project manager of the Mercator Foundation/ Agora Verkehrswende, considered the self-evidence of mobility to be paramount. He suggested submitting projects that use data for a just and climate-friendly transport turnaround and also enter into unusual alliances.
The input of Dr Nari Kahle, Head of Strategic Programs at CARIAD by Volkswagen AG, was dedicated to autonomous driving. According to her, autonomous driving improves safety in the transport sector, saves fuel and gives back life time. In addition, autonomous driving opens up new target groups and is an opportunity for more social participation. For the DMP, Kahle wanted new approaches as well as business and payment models that enable affordable autonomous driving for everyone.
In his statement, journalist and mobility expert Don Dahlmann emphasised that people are at the centre of mobility, not technology. In his vision, the smartphone would become the car key, giving everyone access to mobility at all times. Dahlmann's appeal for the DMP was to submit multimodal mobility projects such as car and e-scooter sharing offers that people can use easily, digitally and safely and thus bring about a change in thinking.
Anja Hendel, Managing Director at Diconium, stressed in her speech that software and hardware must be thought of together. She called for mobility solutions for the DMP that combine hardware and software and take into account standards of quality, safety and durability.
In her statement, Stefanie Engelhard, Co-Founder at Unleash Future, wished for a future-proof mobility that is completely emission-free and interoperably linked between bus, ship and rail transport. She encouraged all citizens to submit projects for the DMP that also consider transport logistics and include air, land and sea routes.
Raúl Krauthausen, activist for inclusion and accessibility at Sozialhelden e. V., called in his speech for mobility as a prerequisite for inclusion, participation and social participation for all. For the German Mobility Award, the activist wanted projects that involve people with disabilities earlier in the development of smart applications.
Following the statements, the innovations of the German Mobility Award were presented. Instead of a changing annual motto, project ideas can be submitted in ten categories for the first time. The DMP has a new website, which is a digital participation portal that complies with data protection regulations and enables the exchange and networking of all participants. Numerous events and networking meetings will take place during the competition year. Applicants will be informed in four coaching sessions about how they can participate in the German Mobility Award. Last but not least, all citizens and mobility thought leaders are invited to participate, either as applicants, contributors of ideas or votes, or as jury members.
Parallel to the event, questions from the audience were answered in the chat and forward-looking projects and initiatives were mentioned, for example the ride-sharing solutions of the Mitfahrverband e. V., various regional open-source solutions such as "bbnavi", "stadtnavi", "regiomove" and "Jelbi-App", the integration platform for mobility-relevant data "MobiData" as well as the local initiative OpenBikeSensoren, which provides administrations with data on passing bicycles.
The kick-off event ended with a preview of the German Mobility Award ceremony on 27 October 2022.